This site is for sale, Learn More
Pay Per Click (PPC) Advertising:
Are You Paying Too Much For Clicks?
Originally Published: October 26, 2004
US$10 million for consumers that do not exist
"John Squire, vice president for product marketing for Coremetrics, which provides consulting and Web analysis for online merchants like Eddie Bauer, OfficeMax and CompUSA, estimated that the company's clients were spending about US$10 million a year on fraudulent clicks. That is, they are spending about US$10 million on consumers that do not exist."
What does this mean to you?
Editor's Note: See How To Avoid Click Fraud to learn how to protect yourself from click fraud.
Copyright by Axandra GmbH, publishers of SEOProfiler, a complete SEO software solution.

All product names, copyrights and trademarks mentioned in this newsletter are owned by their respective trademark and copyright holders.
Site Promotion Articles Indexes: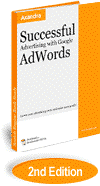 Writing Optimized
Google AdWords