This site is for sale, Learn More
Succeed With Pay Per Click (PPC) Ads
Pay Per Click (PPC) Campaigns Can Bring Lots Of Sales
Originally Published: March 1, 2005
They set up a pay per click campaign.
They get many visitors and pay lots of money.
They don't get a single sale.
1. Choose The Right Pay Per Click Search Engines
2. Choose The Right Keywords
3. Know how much you can pay for a click
Copyright by Axandra GmbH, publishers of SEOProfiler, a complete SEO software solution.

All product names, copyrights and trademarks mentioned in this newsletter are owned by their respective trademark and copyright holders.
Site Promotion Articles Indexes: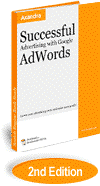 Writing Optimized
Google AdWords