This site is for sale, Learn More
Importance Of A Page 1 Search Engine Result And How To Get It
First Page Of SERP Is Money Maker
Originally Published: August 14, 2007
If You Want To Get Visitors, You Must Be Listed In The Top 30 Results
"Key among the findings relating to the current search engine user community is that 62% of search engine users click on a search result within the first page of results, and a full 90% of search engine users click on a result within the first three pages of search results. [...]
Fewer search engine users are willing to click on results past the third page now (10%)."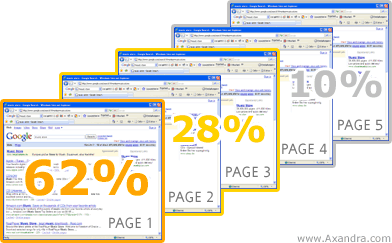 How To Get Listed On The First Three Result Pages On Google
Start by choosing the right keywords. This is very important.

It makes no sense to target general keywords such as "business" because you have no chance of getting the number 1 listing for such a keyword. In addition, general keywords usually don't convert to sales.

The best keywords have little competition and a high conversion rate. Use this keyword analysis research tool to find these keywords.


Create a content rich web site that can be optimized for many different keyword combinations.

The more different web pages you have the more likely it is that search engines will list your web site on the first position for a keyword and that web surfers will find your web site relevant to their needs.


Get inbound links to your web site. High search engine rankings are the result of optimized web page content and good inbound links. If you want to have rankings, your web site must have both.
Copyright by Axandra GmbH, publishers of SEOProfiler, a complete SEO software solution.

All product names, copyrights and trademarks mentioned in this newsletter are owned by their respective trademark and copyright holders.
Site Promotion Articles Indexes: