This site is for sale, Learn More
Yahoo Site Match
Is Site Match Right For Your Web Site
Originally Published: March 16, 2004
What is Site Match?
How much does it cost to use Site Match?
First URL: $49
URLs 2-10: $29 each
URLs 11-999: $10 each
Does Site Match guarantee high rankings?
Must I use Site Match if I want to be listed on Yahoo?
What can I do to get in the Yahoo index without paying?
Editor's Note: For more on Yahoo's submission options see: Yahoo's New Submission Options
Copyright by Axandra GmbH, publishers of SEOProfiler, a complete SEO software solution.

All product names, copyrights and trademarks mentioned in this newsletter are owned by their respective trademark and copyright holders.
Site Promotion Articles Indexes: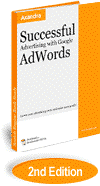 Writing Optimized
Google AdWords